Since Alconbury Weald's conception, there has been new approaches and technologies to support sustainable development. Urban&Civic has developed a Sustainability Framework that provides a road map to Net Zero Carbon, alongside toolkits to support best practice in delivering a net gain for nature, and in supporting the health and well-being of residents.
The Sustainability Charter
The Sustainability Charter that will be developed for Key Phase 3, is based on the five pillars of Sustainable Development, which form a wider part of Urban&Civic's commitment to be Net Zero as a company by 2030 and through its developments by 2050.
These five Capitals are based on the contribution that we believe sustainable development can make in our work. Globally and locally this can support the fight against the three greatest challenges we face: climate change; the threat to nature and biodiversity; and human health and wellbeing
Physical Value creates high quality places and is increased where buildings and infrastructure are designed for longevity, allowing people to navigate easily on foot/by bicycle or using low carbon public transport.
Social Value is delivered where a great place brings people together and creates a cohesive community of active citizens: not just Alconbury Weald citizens, but ensuring the place respects and provides space for neighbouring communities and new residents to meet.
Economic Value is increased where all users of a place feel they have a stake, and a level of ownership and buy-in to the outcomes it is seeking to achieve: from local procurement and showcasing local innovation, to providing apprenticeships and space for local businesses.
Human Value is grown where quality and longevity of life is improved and happiness is increased; supported by the individual experience of some or all of the other values.
This is one reason the Quality of Life Survey is so important to help our understanding of how to improve this and to ensure that we do.
Natural Value is embedded where existing natural assets are protected and new complementary resources delivered, ensuring a net gain for nature and the wider environment.
As part of our membership of Natural Cambridgeshire, we share a commitment to doubling the amount of land within the county which is managed for nature.
Along with this commitment to nature, Urban&Civic is seeking to deliver at least 12% Biodiversity Net Gain at Alconbury Weald and across all our developments. This will be independently verified by the Wildlife Trust.
We have developed a Toolkit to bring together best practice, and to inform our design and approach to move this forward, working with our design team, government and local partners. This will drive the approach in Phase 3.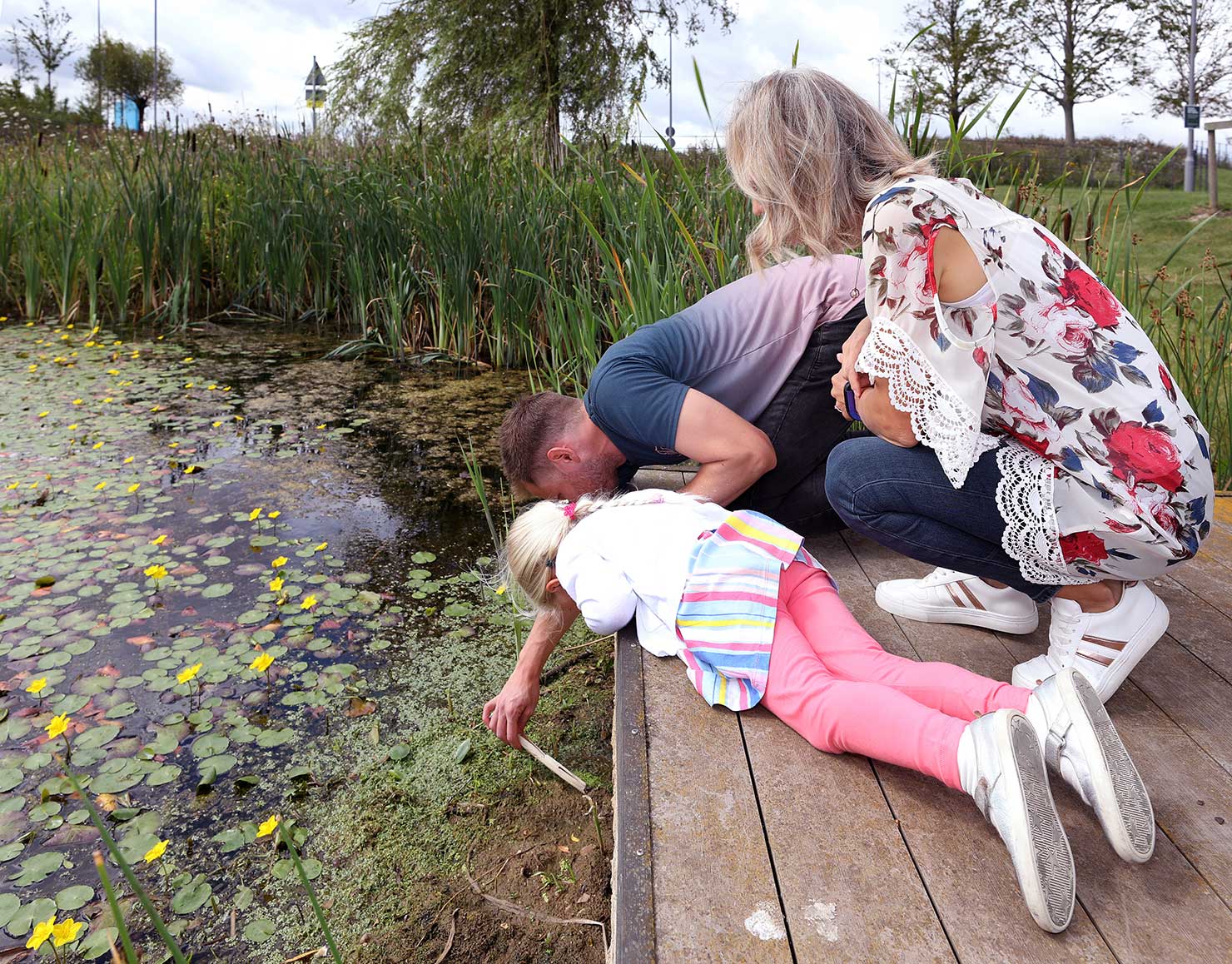 Water is one of the key challenges of climate change: ensuring we have enough of it and use it wisely, but also coping with extreme weather, which may lead to flooding.
As Alconbury Weald sits high relative to its neighbours, Phase 3 will have an extensive water network of storage ponds, swales and basins to hold, control and gradually release water at the same rate as a greenfield site.
There are 12 points where rain that falls on the development leaves and flows into tributaries of the Alconbury and Bury Brooks. Maintaining the use of these outfalls allows the drainage strategy for the development to mimic the natural drainage of the land, while also maintaining the flow of water downstream for irrigation and agriculture. The plans will be developed with local communities and local drainage partners to ensure they support the wider work to prevent flooding in the local area, by holding water back for longer and releasing it more slowly.
Alongside this, homes in the Phase 3 will have water saving features that use less water per household and support wider energy efficiency principles that reduce the need for power, heating and water.
The energy approach – like other areas of the Sustainability Charter – focuses, in the first instance, on reducing the need for power or other resources, then seeking to supply what is needed as efficiently as possible and in a low carbon way.
While the detailed delivery is still being explored, we wanted to share the matrix approach we have developed to support our thinking.
Reducing space heating demand through improved fabric efficiency
Balance daylight comfort and passive heating
Overheating risk analysis to inform occupant comfort
Mechanical ventilation with heat recovery (MVHR)
High efficiency lighting throughout
Network and building-level management for optimisation
All-electric servicing strategy
All demands met through efficient supploy of zero carbon electricity
Energy sharing network at higher density, mixed use locations
Diversity energy use on site and optimise offset from LZC technologies
Extract renewable heat from the air
Convert the sun's energy into renewable heat
Can be combusted to produce zero carbon heat
Extract renewable heat from the ground
Convert the sun's energy into renewable electricity
Produces green gas which is combusted to generate electricity